Attorney Alberto Ayo
My legal philosophy can be summed up in one word: dedication. I practice law in a thorough way that is based on scholarly insight into the law coupled with decisive action.
Those attributes are the foundation of our firm. My experience in the law is also buoyed by a background studying government at William and Mary, famed for claiming President Thomas Jefferson as an alumnus. I am a longtime Tampa resident who comes from a long family line of doctors, attorneys, and professionals which ingrained in me a passion for finding justice for people. I am an avid student of history and fluent in English, Spanish, and Italian.
My Strengths:
I bring to bear a strong background in international finance which has brought me a tested ability to handle complex financial litigation. It allows to me deal with high assets in complex financial divorces. It lends itself to that. Lawyers don't necessarily deal with numbers and I am a numbers person. You get a person that understands very complex business transactions which many lawyers do not. I have an intricate knowledge of complex business transactions and markets nationally and internationally. I am very able and comfortable handling complex financial litigation. For instance, if there are corporations washing or hiding money in a case, I can pierce that cover. I also believe in fairness and justice. I won't take a case that I don't believe in because I have to believe in what I'm doing. I believe you need a strong personality and have the ability to take decisive action. I've always been a persuasive individual and a student of history. In essence, that society is bound by the law. We as attorneys are given great power to make a difference in people's lives. So I practice with heart, passion, and honesty making it a very rewarding endeavor.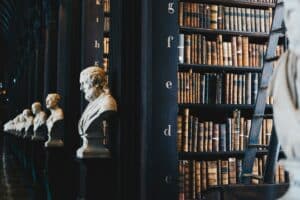 Request a Free Consultation
What I Find the Most Exciting in Legal Practice
One of my main focuses is on the well-being of women who are caught up in damaging divorces, often facing domestic violence, and seeking the best for their children in the most difficult of times. I've always been very drawn to helping women who have been subjected to abuses. That is just something that is anathema to our society. A lot of women get lost in a vicious cycle and I have always been interested in helping in these abusive situations. I've always been a defender of the people in need with empathy for those in our society who are in situations where they don't have the means to prosper.
A Client Testimonial
Ayo & Iken client Dorothy Williams can attest to the focus Ayo gave to her case. Williams came to Ayo after being neglected by a prior attorney as her life savings were drained in a contentious divorce.
Williams said Ayo took her down a much-needed path to get her divorce resolved in a way that put her on the way to being whole again financially and personally. Things became especially intense when Williams faced losing time with her children if no settlement was reached.
"Alberto told me he couldn't live with himself if we went forward and the judge took away time from my children," Williams said. "I knew at that moment that he was not just interested in the money but me and my children."
My Qualifications:
I believe that passion for what you do is the only thing that counts. But to satisfy those that go strictly by qualifications, here is the list:
Member of the Florida Bar
Ayo & Iken Partner
Juris Doctor Degree from Stetson University
Graduate of William and Mary with a degree in government
Reviews
Absolutely highly recommended ! It is with much enthusiasm that I recommend Alberto Ayo, and a special thanks to Paul Moyer and Angela in Orlando area. Their working skills and strategies are truly phenomenal ! they possess a joint-motivation in which creates and execute a credible environment during the hearings in court, I am very happy for this overall and final outcome in my case.
Attorney Ayo is a highly motivated professional with strategical experience. He exhibits a sound balance between getting the job done and being empathetic. He is what I call a straight shooter that can adapt instantaneously. Your office achieved beyond what was expected and we will be forever grateful to you and your staff. Thank you!!!
I cannot thank enough from the bottom of my heart, Mr. Alberto Ayo and Ms. Mellisa Robinson for helping me . They are sweet , very understanding and EXTREMELY PROFESSIONAL. They helped me every step of the way .And he drove from Tampa to Brooksville to represent me , I recommend Mr. Alberto Ayo to anyone and everyone.