By Attorney Howard Iken: I have been in the Tampa courthouse quite a bit this week, with more coming up. Some weeks I see nothing but a certain courthouse. It occurred to me that many clients would like to see pictures of where they are going. I get so used to traveling to different places that I don't realize my clients are facing the unknown. Of course sometimes I get confused – the family law courts are on the 4th floor of one courthouse but are on the 3rd floor in another. But other than that I am pretty much on automatic mode when traveling, parking, eating, or attending court. So yesterday I doubled back to the Tampa courthouse and took a few pictures (after checking with the Deputy on duty).
Here is the front of the Tampa Courthouse – also known as the Thirteenth Judicial Circuit. Sometimes there is no line and you can quickly walk right in. You will immediately be in a security line where there is a metal detector, xray machine for bags, and a lot of security people. Men – be prepared to take your belt off. If you have metallic shoes – same thing. Many times there is a long line all the way to the street. While waiting, much of the time, you will listen to a megaphone carrying street preacher, and be able to select from a variety of roses made from palm fronds.
If there is a really long line, you may want to grab a quick bite to eat. Here is a food cart right next to the building
Once you are in the building you will have to go through security screening. This is a shot from the second floor cafe. If you are lucky there will be no lines to deal with.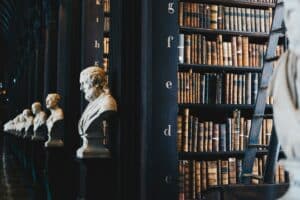 Request a Free Consultation
The cafe on the second floor. Not only is it a good people watching spot but the food is pretty good. I recommend that clients arrive early and hang out here for a little while. It calms the nerves.
I forgot to mention parking. The best place to park is the parking garage just up the street. Always be early ! During peak hours there is a long line of cars.
Working as a divorce and custody attorney is really stressful. That may come as a shock and surprise to some of you. I do feel very strongly about pushing for my client's position. But after a day of fighting for my client's rights I feel like this:
Even though this is how I feel, I come back day after day to work in my chosen profession, as a divorce and custody lawyer. We have four attorneys that regularly do Tampa paternity, custody, divorce, and support cases. We are familiar with the courthouse and used to appearing before the family law judges in Tampa. Hillsborough clients usually visit us in our South Tampa office, or our Wesley Chapel office.